Hello Swimmers,

Election season is upon us, not just in Seattle, but for our Wedgwood Pool Board as well. While our elections won't be held until November, it is time to think about running for a pool board position. Take a look at this message from our board about open positions and how to enter into the election process for the board:

Seeking Pool Board Members!!

The Wedgwood Swim Pool Board of Directors has appointed a Nominating Committee to recruit interested candidates for election at the November 2023 Annual Meeting. In accordance with the Pool Bylaws, only full members are eligible to run for the Board.

There will be 4 positions available:

Communications Committee Chair
Landscaping Committee Chair
Maintenance Committee Chair
Treasurer

Candidates for the Board are not running for a particular position, but rather are being elected to serve the membership as a whole. The Pool Bylaws (available under the "documents" section of the Members Only database (http://circus.wedgwoodpool.com/) outline the various committees and the responsibilities of being a member of the Board. A separate document "2023 Open WSP Board Positions" on the Members only database contains descriptions of the duties for each of the four open positions.

The Board serves as stewards of the Pool and its welfare so we hope you will consider it as a place to share your time and talent!

If you are interested in running for a position, or have questions about what is involved, please contact any of the committee members (Mee Moen, Cindy Katz or Molly Martin) for more information. You may also email the committee at: wspnominate2023@gmail.com

The deadline for interested parties to submit names for consideration is September 15th

Thank you!
 
Adult Swim Team: Big shout out to all you adult swim team swimmers! We had a big group of adults swimming hard and smiling even harder at the adult meet on Saturday. Your hard work paid off with all fast swims and fun that was had. Wedgwood took home 2nd place and I think we set our sights on that 1st place trophy for next year!



 
Water Polo: Season about to commence! Practices start on Wednesday August 2nd. The season will run from the first week of August through August 31st.
 
The practice schedule is as follows:
12 and under- Tuesday and Thursday 9:00 AM – 9:30 AM (potential games on Friday mornings)
13 and up- Monday – Thursday 8:00 AM – 9:00 AM
Games for 13 and up will be Tuesday and Thursday nights.
The sport is great, our coaches are fun and experienced, and Wedgwood water polo will be a great way to stay active in the water for the month of August. If you have friends who are not members who would like to try out the sport, we are taking non-members for the season. For the most up to date information follow @wedgwoodwaterpolo on Instagram and email wedgwoodwaterpolo@gmail.com
 
Swim Team Banquet: This Wednesday August 2nd starting at 5:00 PM (Pool closing at 4:00 PM). Come down and celebrate our swimmers on their hard work and accomplishments this year and give our seniors a final send off. We love you seniors – your time, dedication and care given to Wedgwood over the years is what make this team so special!
 
Water Show: Time to show off you dance moves! Sign ups are posted in the lobby, your choreographers will be contacting you soon with practice schedules and dance moves to practice. Performances will be dress rehearsal on 8/18 at 7:00 PM and the big show on 8/19 at 7:00 PM. And ill say it again to all you adults because I assume it is you reading these emails, there used to be a wonderful show put on by the parents of the pool each year and I would love to bring that tradition back!
 
Lap Swimming Etiquette: Coming off a week with a few head on collisions in the lap lanes I think it is time to refresh our lap swimming practices. With 2 people in a lane, you may split it (each person stays on one side of the black line). If and when a third person joins the lane you must circle swim. Circle swimming means you treat the lane like a road, always staying on the right hand side of the lane. If you are the 3rd person in the lane, you must get the attention of the other two swimmers so they are aware that you are joining and you all will be circle swimming. Communication is key in all aspects of life, and especially in lap swimming so you can avoid a high speed head-on collision during your swim!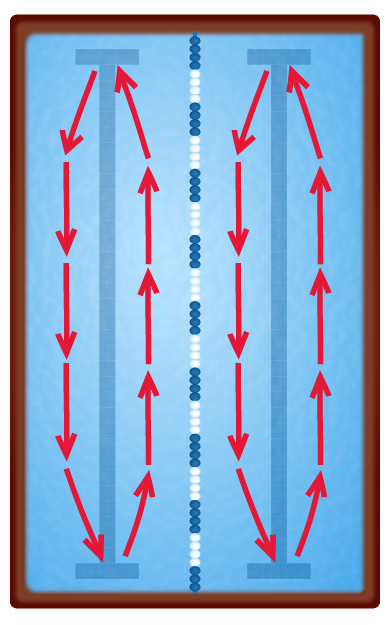 Don't Forget Your Pre-Swim Shower: It is that time of summer where we all want to be down at the pool all the time, I love it. Help us all out by taking a good rinse before getting in, it might not seem like it does much, but it really is helpful in keeping the pool clean and running smooth. Our showers are warm and we even have them right by the shallow end so taking those extra few beats to shower off won't take away from your swimming time.
 
 
Pool Hours For The Week: July 31st – August 6th
 
Monday July 31st
            6:00 AM – 8:00 AM Early Morning Lap Swim            
            8:00 AM – 8:45 AM Water Aerobics
            12:05 PM – 12:50 PM Water Aerobics
            1:00 PM – 9:00 PM Open Swim
 
Tuesday August 1st
            6:00 AM – 8:00 AM Early Morning Lap Swim            
            12:05 PM – 12:50 PM Water Aerobics
            1:00 PM – 9:00 PM Open Swim
 
Wednesday August 2nd
            6:00 AM – 8:00 AM Early Morning Lap Swim            
            8:00 AM – 8:45 AM Water Aerobics
            12:05 PM – 12:50 PM Water Aerobics
            1:00 PM – 4:00 PM Open Swim (Closing early for swim team banquet)
            5:00 PM Swim Team Banquet
 
Thursday August 3rd
            6:00 AM – 8:00 AM Early Morning Lap Swim            
            12:05 PM – 12:50 PM Water Aerobics
            1:00 PM – 9:00 PM Open Swim
 
Friday August 4th
            6:00 AM – 8:00 AM Early Morning Lap Swim            
            8:00 AM – 8:45 AM Water Aerobics
            12:05 PM – 12:50 PM Water Aerobics
            1:00 PM – 9:00 PM Open Swim
 
Saturday August 5th
            11:00 AM – 12:00 PM Adult Lap Swim          
            12:00 PM – 9:00 PM Open Swim
 
Sunday August 6th
            11:00 AM – 12:00 PM Adult Lap Swim          
            12:00 PM – 9:00 PM Open Swim
 
 
For those of you who like to look ahead and plan your swims keep these dates in mind:
Water polo games on 8/10, 8/15, 8/24 closing at 4:30 PM
Water Show Dress Rehearsal 8/18 closing at 7:00 PM
Water Show 8/19 closing at 7:00 PM
 
 
Happy Swimming,
Mike